Dr. Najla Bell
Dr. Najla Bell is a native of Jacksonville Beach and now calls St. Augustine home. She lives with her husband and their two children and earned a Bachelor of Science from Queens University of Charlotte in North Carolina and then received her veterinary degree from the University of Florida, College of Veterinary Medicine. Dr. Bell has extensive experience in preventive medicine as well as emergency medicine. She has worked in 24 hours practices for many years and before veterinary school, worked in wildlife rescue, medicine and rehabilitation. A life-long animal lover and owner, Dr. Bell strongly recommends preventative care and always seeks a balance of appropriate treatment for every patient.
"I am very excited to be a part of the team at MuraBella Animal Hospital and I feel so lucky to be able to offer the very best in animal health here at MuraBella. I look forward to meeting you and your family!"
Dr. Alyce Sims
Dr. Alyce Sims was born in Ocilla, Georgia and is married and lives in St. Augustine with her human and animal family. She completed her undergraduate education at Mercer University and attended Auburn University, College of Veterinary Medicine at and received her Doctor of Veterinary Medicine degree in 1967.
After graduation, she practiced as a small animal clinician in Jacksonville. She owned and operated Riverside Animal Hospital for 14 years and during that time became interested in the art of Holistic Medicine and Acupuncture. In 1990, she graduated from the International Veterinary Acupuncture Society and has successfully incorporated holistic and conventional veterinary medicine. Because of her special interests in both sciences, she provides patients with a unique blend of veterinary care that is especially fitted to their needs.
Dr. Zachery Drilingas
Dr. Zachery Drilingas is originally from Cedar Hill, MO and now resides in St. Augustine, FL with his two dogs, Mia and Vera. Dr. Drilingas completed his undergraduate degree in Animal Science at Southeast Missouri State University in Cape Girardeau, MO. Prior to veterinary school, Dr. Drilingas worked for the Boy Scouts of America and in retail. He graduated from the University of Missouri, College of Veterinary Medicine with his Doctorate of Veterinary Medicine. Dr. Drilingas has special interests in surgery, cardiology, and preventative care.
He hopes his past experience in customer service provides peace of mind to owners that their pets' are receiving gold standard level of care and the confidence in the knowledge about their pets' condition to aid in decision making. In his spare time you can find him at the beach, crafting something in his garage, baking, or somewhere else outdoors.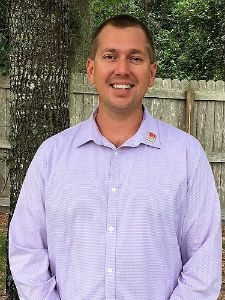 Ryan Meyer, Hospital Director & Owner
Ryan is a native Floridian and grew up in an animal loving family with 6 cats! He currently lives in St. Augustine with his wife and two children.
"I am so excited to be joining the team at MuraBella Animal Hospital. We offer a full spectrum of services using technology and cutting-edge medicine while respecting your busy schedule. From vaccinations and heartworm prevention to surgery and acupuncture, I am proud to say we provide the best in animal medical care for St. Augustine. Come by and ask for a tour of our facility, I look forward to meeting you and your family."
Lisa, Director of Client Services
Lisa joined our team in January 2015 and has been an asset to our team ever since. She has many years of experience in customer service and is excited to share her love of animals with our lucky clients and patients. Lisa has been an animal lover since birth and cares for pets ranging from cats and dogs to rodents and reptiles (aside from her loving husband and son), bringing a great understanding of care and compassion from small to large animals.
Maddie, Veterinary Technician
Maddie is the newest edition to our team and joined us in July 2015. She comes with a wealth of experience and compassion. She has been working in Veterinary medicine for about 3 years. Maddie comes to MuraBella most recently from south Florida and we are so lucky to have her! She is the Momma of "Woody" a 7 year old basset hound, Zazu" a 4 year old husky, a fish named "Bruce". She also cares for 2 adopted dogs, "Daphny" and "Emily"!
Mel, Veterinary Technician
Melissa has spent many years working in the veterinary field, most often working overnights with emergencies. She moved to St Augustine from Miami in August 2017 and joined the MuraBella team. She has several pets of her own including: 2 dogs, 4 cats, a red tail boa, a bearded dragon, an Asian water monitor and a fire skink. She lives here with her husband, 3 sons and a new baby girl. Mel has always had a love for animals and has dedicated her life to helping them.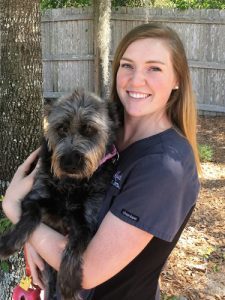 Karen, Lead Client Representative
Karen joined our team in February 2016 and has been a great addition ever since! Graduating from St. Mary of the Woods College in 2014 with a B.S. in Equine Business Management, she brings her knowledge of large animal care to our small animal practice. Karen also studied Business Administration, which has helped assist her in her current role as Lead Client Service Representative. Karen has a dog named Stella (who is often seen supervising the reception desk!) and a horse named Whooy.
Jaclyn, Veterinary Assistant
Jaclyn comes to us from a military family and has lived all over the country. She has always had a passion for education specifically in animal conservation. She previously worked in guest education at the Lowery Park Zoo in Tampa, teaching children about animal health. Jaclyn joins our team as a veterinary assistant and is excited to continue her education in hopes of sharing her knowledge and passion with our community. She is excited to meet your furry family members!
Julia, Veterinary Technician
Julia joined our team in July of 2016. She comes from the restaurant world and brings many years of experience providing excellent customer service. She started as a client representative and then transitioned to a vet assistant. Now she has transitioned to a veterinary technician! She is a dog mom to 2 beautiful pups named King and Krystal and utilizes her love for animals of all shapes and sizes. We are happy to have her as a part of the MuraBella team!
Marisa, Client Services Representative
Marisa is a Saint Augustine native who grew up with a deep love and appreciation for animals and nature. She lives with her husband Chris, their two dogs Randy and Irie and a pet rat named Deli. Marisa grew up with Deaf parents and is fluent in American Sign Language. With 10 years experience in the hospitality industry, she loves bringing smiles to peoples' faces. She enjoys the challenge of combining medicine and her customer service background. When Marisa is at home, she loves crafting, reading, and spending time outdoors with her family. We are so excited to have her on the team and can't wait for you to meet her!
Crystal Rodriguez, Groomer
Crystal has been a groomer for over ten years! She is affectionately known as the purple haired groomerby her regular clients. She embodies everything we believe in here at MuraBella Animal Hospital with a purple flair all her own. In her downtime she loves taking her family to Disney World. She is also a lover of scaly creatures and creepy crawlies alike. We are lucky to have her and can't wait to share her with you.
Colette, Vet Assistant
Colette comes from a small town in Northern Oklahoma. She moved to Florida to pursue a Master's Degree in Marine Science at Jacksonville University with specifications in veterinary medicine and marine animal behavior and rehabilitation. She has loved animals since she was very young and has been a dog mama to several rescue dogs and cats over the years. Her current dog is a female Siberian Husky named Tessa. Her future goals include earning a veterinary technician license to continue learning clinical and emergency animal care. She is excited to work as a veterinary assistant at such a care-oriented hospital and to meet all the fluffy fur-babies that walk in the door!"
Kayla, Vet Assistant
Kayla is a North Florida native and developed her love for animals at a very young age. For over a decade she worked with horses training them for A list shows, and even had one of her horses make it into the Olympics which was a huge accomplishment! She then started school for Zoology at Santa Fe College and has been able to work with tigers, wolfs, and lions at the St. Augustine Big Cat Rescue. Now Kayla would like to learn how to save animals not just take care of them. She has joined our team as a Vet Assistant to grow her knowledge on medical care and helping patients in need.