February is National Pet Dental Health Month!
For the entire month, we are offering $50 off dental procedures!
Did you know?
Approximately 80% of cats and dogs will have some form of dental disease by the age of THREE and providing your pet with good dental hygiene can add 2-4 years to its life!
Restrictions Do Apply:
Must have blood work done within 30 days of procedure. Must be up to date on physical exam with us.
Dental procedures must be scheduled in the month of February only.

Did you know?!
Periodontal disease causes inflammation and infection that can damage other organs including the heart, liver, and kidneys!
Small breed dogs are more likely to have dental issues. Why? Because their teeth are often a little too large for the size of their mouths.
Contrary to what you've heard, a dog's mouth is NOT cleaner than a human's mouth!
Maddie's Story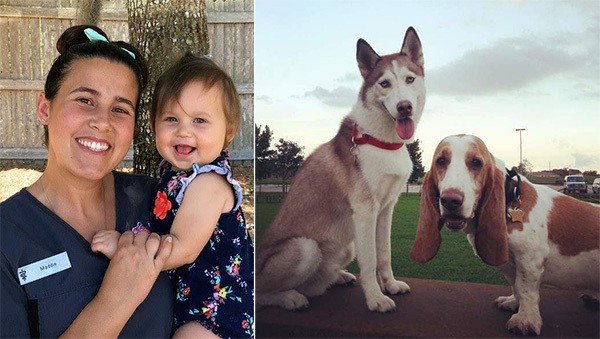 My family consists of my husband and I, our two-legged fierce little girl who is about to turn 2 and our 2 four legged fur babies. Zazu is our 6 year old Husky rescue, who we adopted in February of 2012 when he was 2 years old. He has seizures about once a month but lives life like nothing ever happens. Our other dog is Woody, a 10 year old Basset Hound who I have had since he was 8 weeks old. He also has health issues that come with age. He has a heart condition but that never stops him from lounging on the beach.
When Woody was 4 years old, just after he had been neutered, we went for a walk around the neighborhood. During the walk, he got away from me and took off running! He ran all the way to the highway and got hit by a car. Very scary but don't worry, he is fine! The only damage done was a little road rash and a broken tooth, thankfully! This is when I learned about the importance of dental care for my pets. Since the tooth, a canine, was broken during the accident, I needed to keep a closer eye on his teeth because we knew it was most likely that the rest of the tooth would slowly die. This meant, in time, he was going to need a dental cleaning that required x-rays of his teeth.
About a year later, the day finally came for his dental cleaning. The cleaning was not only to extract his dead tooth, but to also clean the rest of his teeth, since he had tarter build up that was starting to turn into periodontal disease. I waited until February for National Dental Month since it was right around the corner. About a week after his teeth cleaning and tooth extraction, Woody was a whole new dog! His mouth felt much better and I could tell. This is also when I learned about Hill's Prescription Diet T/D. Instead of feeding T/D as a full-time diet, I feed it as daily treats. These treats were both affordable for me and help to keep Woody's teeth clean.
Fast forward 4 years and it's time for another cleaning. Over the past few years, life got busy and things changed. We went back to our old habits of giving milk bones for treats instead of the T/D. We also had to have a food change since Zazu began having seizures. It was a better diet for the both of them; however, the kibble was much smaller, causing tarter build up for the both of them. With Woody's heart condition and Zazu's seizures, clean teeth are essential! Woody received another successful cleaning in June 2017. Zazu, since his teeth where not nearly as bad as Woody's, was started him back on the T/D treats.
Today, both pets are on T/D treats daily and have happy and healthy, clean teeth!
– Maddie, Veterinary Technician
Dr. Bell's Recommendation
Dr. Bell strongly believes that preventative dental exams and a yearly scale and polish is the most beneficial way to prevent dental disease in our pets. However, we understand that this is not a realistic expectation of all of our pet parents. There a few more affordable ways to help keep their mouth as healthy as the rest of their bodies! By regularly brushing your pets teeth offering VOHC approved dental chews, you can keep dental disease at bay; keeping in mind that you shouldn't put off the dental scale and polish forever! Hill's Prescription Diet (for both dogs and cats) provides a tasty dental care option which can serve as their full-time diet OR given daily as a treat!
Watch the video here for more information on Hill's T/D!
When shopping for dental treats for your pet, make sure you find one with the VOHC seal! These products are proven to be the best for your pet's oral health.
Valentine's Day Spa Package 
Don't be the only one who gets dolled up for Valentine's Day this year!
Learn More